You've heard it before, but do you believe it? Think positively and life will be brighter. It's the basis of starting the personal development industry.
But we've all been in a funk. Those positive thoughts have slipped our minds many times. Even though many of our problems can be traced back to the way we think. We seem to be able to find good reasons for our hostile thinking.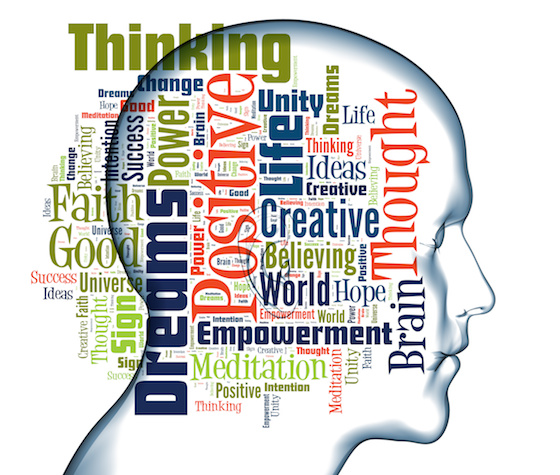 Consider the way we approach problems, whether positively or negatively, affects their outcome.
It comes down to this: change your thinking, change your life.
King Solomon said it best:
For as a man thinks in his heart so is he.

Proverbs 23:7 NKJV
But how can you learn positive thinking?
Negative thoughts deplete your ability to think creatively. Positive thoughts replenish your thinking.You know it's true, but the choice is yours.
Your attitude and your thinking ability are connected; you choose your attitude which affects your thinking ability. Good news – positive thinking can be learned! Even in difficult circumstances, you can choose to have a positive outlook. And, it will have a direct impact on your success and happiness in life.
The first step to changing your thinking is to believe in yourself and in everything you do! You'll build new power and determination and develop the power to reach your goals.
Break the worry habit! You will have the positive impact of improving your personal and professional relationships.
I know it's not easy. I come from a family of worriers. It's not natural for me to think positively. Norman Vincent Peale was a huge influence helping me in this area. His 1952 book, The Power of Positive Thinking, is a classic, selling 20 million copies. I don't agree with everything he writes but this book is filled with practical examples and easy to implement strategies to unleashing The Power of Positive Thinking in you.
As a young person, Norman Vincent Peale fought against strong feelings of inferiority.  Over the years he developed and refined a message that anyone could use to put the principles of positive thinking and strong faith into practice and dramatically improve their own life.
This book is written with the sole objective of helping the reader achieve a happy, satisfying, and worthwhile life.

Norman Vincent Peale
A free condensed PDF is available by clicking here.
Who wants to be around someone who complains? We all prefer being around someone who's cheerful. Everyone can be more effective by reading The Power Of Positive Thinking. If you don't learn to master the power of positive thinking, you won't reach your full potential.
Imagine if your life changed and you took control of the narrative in your head and started thinking positively. Imagine what this would look like if it became a reality in your life. That is what The Power of Positive Thinking can do for you and others around you.
Attitude:            Ask people around you if you think positively.
Action:                Order, read or listen to The Power Of Positive Thinking by Norman Vincent Peale and begin to change your thinking.
Question:           What strategies for positive thinking work best for you? What will you do to increase your ability to think positively?
Resource:           The Power of Positive Thinking: 10 Traits for Maximum Results by Dr. Norman Vincent Peale